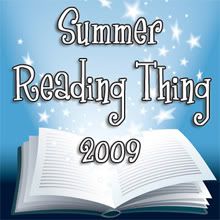 My friend,
Marcia
, signed up for this summer reading challenge and so I thought I would as well. I have a ton of books in my t0-be-read list so I'm going to pull from there. I may also switch it up a little as needed, since I start zealously with reading each summer but then it gets too busy sometimes by the end, which I think is alright for this challenge. I hope. Anyway, I love to read so here's my choices for this summer:
PickUp Games by Marcia Mickelson
Lemon Tart by Josi Kilpack
Fool Me Twice by Stephanie Black

Jane and the Unpleasantness at Scargrave Manor: Being the First Jane Austen Mystery by Stephanie Barron

Lost Memoirs of Jane Austen by Syrie James


The Host by Stephenie Meyer

My Sister's Keeper by Jodi Piccoult

I think this will be a good list. Alternates will include but not limited to my choices from my other challenges currently listed on my side bar, from other book groups I'm already in, or books that may come out by the end of the summer that I may get excited about in a spontaneous moment. For now, this is my speculative list for this summer. I can't wait to get reading!