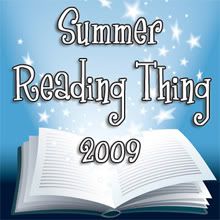 I think I signed up for this challenge in the wrong way so I'm just going to re-post with my LDS fiction list that I'm planning on reading this summer. This list is all LDS authors now. I'll go for reading these, at least, for the Summer Reading Thing. I'm planning on reading the other books from my previous list at some point but these are the ones I need to read and review in order to be eligible for the challenge.
PickUp Games by Marcia Mickelson
Lemon Tart by Josi Kilpack
Fool Me Twice by Stephanie Black
The Host by Stephenie Meyer
I'm new to these challenges but I'm hopeful to enjoy them. I can't go overboard as I would like to sometimes with reading & cool challenges. I also love book groups which I probably have too many to keep up with but I give a good effort as I can. I just have to pace myself as I'm a slow reader that savors and has to re-read sometimes. I think I'll speed up with practice. Most of all, I'm aiming to have fun reading this summer!